Civiltà.Perduta.2016.iTA-ENG.Bluray.1080p.x264-CYBER.mkv
Category

Movies

Type

HD

Language

English

Total size

11.1 GB

Uploaded By eXpOrTeRICV
Downloads

1583

Last checked

3 hours ago

Date uploaded

3 months ago

Seeders

46

Leechers

51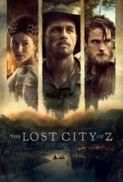 Action
Adventure
Drama
History
A true-life drama, centering on British explorer Col. Percival Fawcett, who disappeared while searching for a mysterious city in the Amazon in the 1920s.
Infohash : 625061A814E405E307C26524A4EEE9A2491F3421


[size=24pt]Civiltà Perduta [/size]




DATA USCITA: 22 giugno 2017
GENERE: Avventura, Drammatico, Biografico
ANNO: 2016
REGIA: James Gray
ATTORI: Charlie Hunnam, Robert Pattinson, Sienna Miller, Tom Holland, Angus Macfadyen, Daniel Huttlestone, Aleksandar Jovanovic, Edward Ashley
PAESE: USA
DURATA: 141 Min
DISTRIBUZIONE: Eagle Pictures




Il film Civiltà Perduta, tratto dal bestseller Z la città perduta (The Lost City of Z) di David Grann, racconta l'incredibile storia, basata su fatti realmente accaduti, di un esploratore Percy Fawcett (Charlie Hunnam) che negli anni 20 scomparve nel cuore delle giungle amazzoniche. Siamo nel 1925, il leggendario esploratore britannico Percy Fawcett si avventura in Amazzonia, alla ricerca di un'antica civiltà, lo splendente regno di El Dorado, con lo scopo di fare una delle scoperte più importanti della storia. Dopo aver catturato l'attenzione di milioni di persone in tutto il mondo, Fawcett s'imbarca insieme al figlio, determinato a provare che quest'antica civiltà, da lui rinominata Z, esiste. Ma la spedizione scompare poi nel nulla. Il film è anche La storia di un sogno che si trasforma in ossessione, quella di un uomo che affronta avversità inimmaginabili, lo scetticismo della comunità scientifica, spaventosi tradimenti e anni di lontananza dalla propria famiglia. Un'ossessione alimentata dalla passione, che cambierà per sempre la vita di questo coraggioso esploratore spintosi forse troppo oltre i limiti del consentito e del conosciuto.




[ Info sul file ]

Nome: Civiltà.Perduta.2016.iTA-ENG.Bluray.1080p.x264-CYBER.mkv
data: Mon, 09 Oct 2017 20:40:49 +0200
Dimensione: 11,943,784,529 bytes (11390.480546 MiB)

[ Magic ]

Tipo file: data

[ Info generiche ]

Durata: 02:21:23 (8482.848 s)
Contenitore: matroska
Production date: Mon, 09 Oct 2017 20:35:03 +0200
Totale tracce: 7
Traccia n. 1: video (V_MPEG4/ISO/AVC) {eng}
Traccia n. 2: audio (A_DTS) {ita}
Traccia n. 3: audio (A_AC3) {ita}
Traccia n. 4: audio (A_DTS) {eng}
Traccia n. 5: subtitle (S_TEXT/UTF8) [FORCED] {ita}
Traccia n. 6: subtitle (S_TEXT/UTF8) [REGOLARI] {ita}
Traccia n. 7: subtitle (S_TEXT/UTF8) [NON UDENTI] {eng}
Muxing library: libebml v1.3.5 + libmatroska v1.4.5
Writing application: mkvmerge v15.0.0 ('Duel with the Devil') 64-bit

[ Dati rilevanti ]

Risoluzione: 1920 x 800
Larghezza: multipla di 32
Altezza: multipla di 32
DRF medio: 15.509838
Deviazione standard: 4.296893
Media pesata dev. std.: 4.263983

[ x264 log ]

frame I: 1983 ( 0.976 %)
frame B: 130088 ( 64.025 %) #############
frame P: 71113 ( 34.999 %) #######
frame I avg QP: 13.49
frame B avg QP: 17.36
frame P avg QP: 15.78
Avg QP: 16.769241

[ Traccia video ]

Codec ID: V_MPEG4/ISO/AVC
Risoluzione: 1920 x 800
Frame aspect ratio: 12:5 = 2.4
Pixel aspect ratio: 1:1 = 1
Display aspect ratio: 12:5 = 2.4
Framerate: 24 fps
Dimensione stream: 8,064,224,179 bytes (7690.643481 MiB)
Durata: 02:21:06 (8465.999865 s)
Bitrate (bs): 7620.33953 kbps
Qf: 0.206715

[ Traccia audio nr. 1 ]

Codec ID: A_DTS
Freq. campionamento: 48000 Hz
Canali: 6
Dimensione campioni: 16-bit
Dimensione stream: 1,600,075,280 bytes (1525.950699 MiB)
Tipo di bitstream (bs): DTS
Frames (bs): 795,266
Durata: 02:21:23 (8482.837333 s)
Chunk-aligned (bs): Sì
Bitrate (bs): 1536 kbps CBR
Freq. campionamento (bs): 48000 Hz
Modo (bs): C + L + R+ SL+SR
Final skip (bs): 88 bytes

[ Traccia audio nr. 2 ]

Codec ID: A_AC3
Freq. campionamento: 48000 Hz
Canali: 6
Dimensione stream: 678,627,840 bytes (647.189941 MiB)
Tipo di bitstream (bs): AC3
Frames (bs): 265,089
Durata: 02:21:23 (8482.848 s)
Chunk-aligned (bs): Sì
Bitrate (bs): 640 kbps CBR
Freq. campionamento (bs): 48000 Hz
Modo (bs): 3 front, 2 rear, 1 LFE

[ Traccia audio nr. 3 ]

Codec ID: A_DTS
Freq. campionamento: 48000 Hz
Canali: 6
Dimensione campioni: 24-bit
Dimensione stream: 1,596,900,256 bytes (1522.92276 MiB)
Tipo di bitstream (bs): DTS
Frames (bs): 793,688
Durata: 02:21:06 (8466.005333 s)
Chunk-aligned (bs): Sì
Bitrate (bs): 1536 kbps CBR
Freq. campionamento (bs): 48000 Hz
Modo (bs): C + L + R+ SL+SR

[ Bitstream video ]

Tipo di bitstream: MPEG-4 Part 10
User data: x264 | core 152 r2851 ba24899 | H.264/MPEG-4 AVC codec | Copyleft
User data: 2003-2017 | * | C | Y | B | E | R | * | R | O | C | K | S | * | |
User data: options: | cabac=1 | ref=5 | deblock=1:-2:-2 | analyse=0x3:0x133
User data: me=hex | subme=7 | psy=1 | psy_rd=1.00:0.00 | mixed_ref=1
User data: me_range=16 | chroma_me=1 | trellis=1 | 8x8dct=1 | cqm=0
User data: deadzone=21,11 | fast_pskip=1 | chroma_qp_offset=-2 | threads=12
User data: lookahead_threads=2 | sliced_threads=0 | nr=0 | decimate=1
User data: interlaced=0 | bluray_compat=0 | constrained_intra=0 | bframes=3
User data: b_pyramid=2 | b_adapt=1 | b_bias=0 | direct=1 | weightb=1
User data: open_gop=0 | weightp=2 | keyint=240 | keyint_min=23 | scenecut=40
User data: intra_refresh=0 | rc_lookahead=50 | rc=2pass | mbtree=1
User data: bitrate=7617 | ratetol=1.0 | qcomp=0.60 | qpmin=0 | qpmax=69
User data: qpstep=4 | cplxblur=20.0 | qblur=0.5 | vbv_maxrate=50000
User data: vbv_bufsize=62500 | nal_hrd=none | filler=0 | ip_ratio=1.40
User data: aq=1:1.00
SPS id: 0
Profile: [email protected]
Num ref frames: 5
Aspect ratio: Square pixels
Chroma format: YUV 4:2:0
PPS id: 0 (SPS: 0)
Tipo di codifica entropica: CABAC
Weighted prediction: P slices - explicit weighted prediction
Weighted bipred idc: B slices - implicit weighted prediction
8x8dct: Sì
Totale frames: 203,184
Drop/delay frames: 0
Frames corrotti: 0

P-slices: 71113 ( 34.999 %) #######
B-slices: 130088 ( 64.025 %) #############
I-slices: 1983 ( 0.976 %)
SP-slices: 0 ( 0.000 %)
SI-slices: 0 ( 0.000 %)

[ Analisi DRF ]

DRF nedio: 15.509838
deviazione standard: 4.296893
max DRF: 29

DRF=1: 1306 ( 0.643 %)
DRF=2: 633 ( 0.312 %)
DRF=3: 375 ( 0.185 %)
DRF=4: 1886 ( 0.928 %)
DRF=5: 5321 ( 2.619 %) #
DRF=6: 5874 ( 2.891 %) #
DRF=7: 534 ( 0.263 %)
DRF=8: 432 ( 0.213 %)
DRF=9: 829 ( 0.408 %)
DRF=10: 1866 ( 0.918 %)
DRF=11: 2849 ( 1.402 %)
DRF=12: 5106 ( 2.513 %) #
DRF=13: 13898 ( 6.840 %) #
DRF=14: 28573 ( 14.063 %) ###
DRF=15: 27773 ( 13.669 %) ###
DRF=16: 22908 ( 11.275 %) ##
DRF=17: 20421 ( 10.050 %) ##
DRF=18: 20014 ( 9.850 %) ##
DRF=19: 15062 ( 7.413 %) #
DRF=20: 9463 ( 4.657 %) #
DRF=21: 6040 ( 2.973 %) #
DRF=22: 4538 ( 2.233 %)
DRF=23: 2987 ( 1.470 %)
DRF=24: 2089 ( 1.028 %)
DRF=25: 1309 ( 0.644 %)
DRF=26: 682 ( 0.336 %)
DRF=27: 283 ( 0.139 %)
DRF=28: 30 ( 0.015 %)
DRF=29: 42 ( 0.021 %)
DRF>29: 0 ( 0.000 %)

P-slices DRF medio: 14.891033
P-slices deviazione std.: 4.202004
P-slices max DRF: 29

B-slices DRF medio: 15.883756
B-slices deviazione std.: 4.305412
B-slices max DRF: 29

I-slices DRF medio: 13.171457
I-slices deviazione std.: 3.768764
I-slices max DRF: 25

[ Conformità al profilo ]

Profilo selezionato: MTK PAL 6000
Risoluzione: 1920 x 800 > 720 x 576
Framerate: 24 <> 25
Buffer underflow: 00:00:04 (frame 105)
Buffer underflow: 00:00:05 (frame 121)
Buffer underflow: 00:00:06 (frame 137)
Buffer underflow: 00:00:07 (frame 168)
Buffer underflow: 00:00:08 (frame 192)
Buffer underflow: 00:00:09 (frame 213)
Buffer underflow: 00:00:09 (frame 227)
Buffer underflow: 00:00:10 (frame 241)
Buffer underflow: 00:00:11 (frame 258)
Buffer underflow: 00:00:11 (frame 275)
Buffer underflow: 00:00:12 (frame 296)
Buffer underflow: 00:00:13 (frame 313)
Buffer underflow: 00:00:14 (frame 330)
Buffer underflow: 00:00:15 (frame 350)
Buffer underflow: 00:00:15 (frame 370)
Buffer underflow: 00:00:17 (frame 398)
Buffer underflow: 00:00:31 (frame 755)
Buffer underflow: 00:00:32 (frame 770)
Buffer underflow: 00:00:33 (frame 788)
Buffer underflow: 00:00:34 (frame 820)
Errore: Troppe violazioni




ORARIO: SEMPRE ATTIVO
BANDA: 300KB


Files:
Civiltà.Perduta.2016.iTA-ENG.Bluray.1080p.x264-CYBER.mkv (11.1 GB)
Code:
udp://tracker.coppersurfer.tk:6969/announce

udp://tracker.tntvillage.scambioetico.org:2710/announce

udp://tracker.opentrackr.org:1337/announce

udp://tracker.leechers-paradise.org:6969/announce

udp://tracker.zer0day.to:1337/announce

udp://9.rarbg.com:2740/announce

udp://tracker.internetwarriors.net:1337/announce

udp://ipv4.tracker.harry.lu:80/announce

udp://tracker.vanitycore.co:6969/announce

udp://bt.xxx-tracker.com:2710/announce

udp://tracker.kamigami.org:2710/announce

udp://tracker.grepler.com:6969/announce

udp://tracker.filetracker.pl:8089/announce

udp://tracker.tiny-vps.com:6969/announce

udp://zephir.monocul.us:6969/announce

udp://tracker.torrent.eu.org:451/announce

udp://tracker.files.fm:6969/announce

udp://retracker.lanta-net.ru:2710/announce

udp://open.stealth.si:80/announce

udp://inferno.demonoid.ooo:3389/announce

udp://z.crazyhd.com:2710/announce

udp://tracker.christianbro.pw:6969/announce

udp://tracker.halfchub.club:6969/announce

udp://retracker.nts.su:2710/announce

udp://tracker.tvunderground.org.ru:3218/announce

udp://tracker.cyberia.is:6969/announce

udp://thetracker.org:80/announce

udp://tracker.cypherpunks.ru:6969/announce

udp://wambo.club:1337/announce

udp://tracker.acg.gg:2710/announce

udp://tracker.swateam.org.uk:2710/announce

udp://tracker.doko.moe:6969/announce

udp://tracker.dler.org:6969/announce

udp://tracker.pirateparty.gr:6969/announce